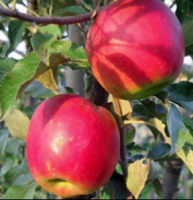 APPLE TREE MCINTOSH 5 GALLON
Part Number: 3001382
AT FLOWERLAND - KENTWOOD:
1
McIntosh is without doubt one of the great North American apple varieties. Like its 19th century contemporaries Golden Delicious and Red Delicious, it has become a highly influential apple variety with numerous offspring. However unlike those varieties its popularity has not spread outside North America, and indeed most "Mac" production, remains centred in New England and across the border in Quebec and Ontario.

The McIntosh style is typified by attractive dark red or (more often) crimson colours, and a crunchy bite, often with bright white flesh. The flavor is simple and direct, generally sweet but with refreshing acidity.
| | |
| --- | --- |
| Part No./SKU | 3001382 |
| U/M | |
| Price | $59.99 |
| Product PDF: | |
| Extra Details: | |